2/9/2021
As of now, our food distribution is drive-thru only M-F from 1:00 pm-4:00 pm, our lobby, store, and bread room are closed while we navigate the pandemic. Our Tuesday Evening Service and Mobile Service to Belgrade have also been temporarily suspended. Check back for updates. Surplus items are located in front of the food bank on a mobile shelf. We are accepting food donations once again, nonperishable items can be dropped off at any major grocery store in town. If you have other large donations, you may come to 602 Bond St. from 8:00 am -5:00 pm, however, please consider avoiding our peak hours from 12:30 pm – 2:30 pm.
In accordance with Federal Law and U.S. Department of Agriculture policy, this institution is prohibited from discriminating on the basis of race, color, national origin, sex, age, or disability (not all prohibited bases apply to all programs).  To file a complaint of discrimination, write USDA Director, Office of Civil Rights, Room 326-W, Whitten Building, 1400 Independence Avenue SW, Washington DC 20250-9410 or call (202) 720-5964 (voice and TDD).  USDA is an equal opportunity employer and provider.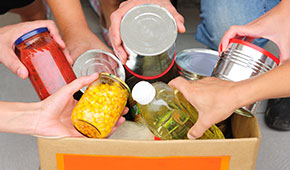 How to Use our Food Bank
Four easy steps to remember when visiting the Gallatin Valley Food Bank.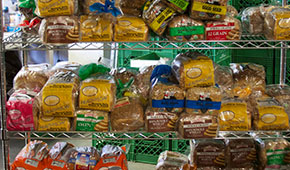 Bread & Produce Room
Home to our overflow bread, produce and sometimes dairy products.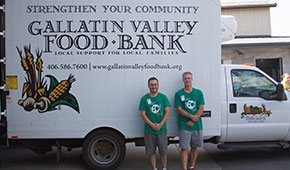 Satellite Sites
We have 2 satellite sites located in Three Forks, Big Sky and a pop-up pantry in Belgrade.
Unique Approaches to Food Security