As of now, our food distribution is drive-though only M-F from 1 pm-4 pm.
Our Tuesday Evening Service and Mobile Service to Belgrade have been temporarily suspended. Click on the image above to learn more. 
Asking for help is something difficult to do, but getting food at our food bank store is free, simple, and confidential. Coming through our doors is a statement of need, and we work hard to meet that need. Our clients are greeted and treated by volunteers and staff with the same courtesy and respect as paying customers and our food bank store follows the design and feel of a grocery store. We hope to provide our clients with a much-deserved break from some of the challenges that necessitated their visit to us.
We welcome anyone into our store who needs us. Come by during our food assistance hours: Monday—Friday: 1 pm-4 pm & Tuesday Evenings: 5 pm-7 pm 
In accordance with Federal Law and U.S. Department of Agriculture policy, this institution is prohibited from discriminating on the basis of race, color, national origin, sex, age or disability (not all prohibited bases apply to all programs).  To file a complaint of discrimination, write USDA Director, Office of Civil Rights, Room 326-W, Whitten Building, 1400 Independence Avenue SW, Washington DC 20250-9410 or call (202) 720-5964 (voice and TDD).  USDA is an equal opportunity employer and provider.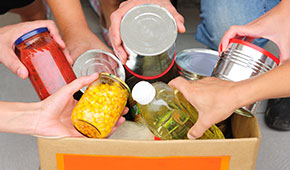 How to Use our Food Bank
Four easy steps to remember when visiting the Gallatin Valley Food Bank.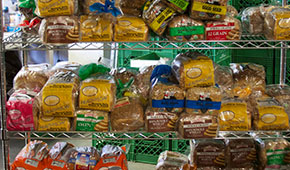 Bread & Produce Room
Home to our overflow bread, produce and sometimes dairy products.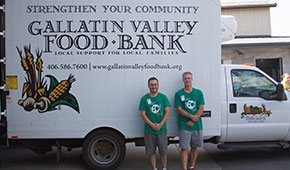 Satellite Sites
We have 2 satellite sites located in Three Forks, Big Sky and a pop-up pantry in Belgrade.
Unique Approaches to Food Security