Our Satellite Food Banks
Big Sky Community Food Bank*
47995 Gallatin Rd
Big Sky, MT 59716
(406) 995.3088
Food Distribution Hours:
Tuesdays from 3 pm-7 pm
Fridays from 11 am-3 pm
The Big Sky Community Food Bank serves the Big Sky area and outlying communities. Closed on major holidays. www.bigskyfoodbank.org
Headwaters Area Food Bank*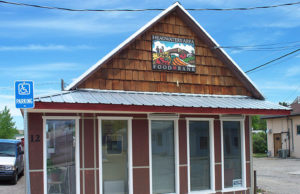 12 East Cedar Street
Three Forks, MT 59752
(406) 285.3559
Food Distribution Hours:
Tuesdays from 1 pm-4 pm
Wednesdays from 3 pm-7 pm
The Headwaters Area Food Bank serves the Headwaters area communities of Three Forks, Manhattan, Willow Creek, and Logan. Closed on major holidays.
Mobile Belgrade Service*
Peace Lutheran Church
203 Jackrabbit Lane
Mondays from 5 pm-6 pm
Perishables and pre-packed food boxes are brought to our pop-up service in Belgrade. Receiving perishable items such as bakery, bread, produce, etc. does not count against your 30-day visit. Only receiving a food box impacts your 30 days.
*Food Boxes are available once every thirty days, regardless of which location you are
served. This includes The Big Sky Community Food Bank, Headwaters Area Food Bank, Belgrade Mobile Service, and the Gallatin

Valley Food Bank.
---
Area Food Assistance:
Fork & Spoon Homestyle Kitchen
302 N. 7th Street
Bozeman, MT 59715
(406) 587.4225
Dinner served from 5 pm-7 pm, Sunday-Friday (Closed Saturday) 
Located on the corner of Beall and N. 7th Ave, Fork & Spoon is serving up homegrown scratch cooking, 6 days a week. Sunday-Friday evenings.  Pay what you can, if you can! Or just enjoy a nice meal without the hassle of clean up! For more information check out their website: forkandspoonkitchen.org
Bounty of the Bridgers, MSU Food Pantry
1218 S. 15th Ave
Bozeman, MT 59718
828-772-4044
Food assistance available Saturdays* from 2 pm to 4 pm
*closed during Holidays
C3 Church
310 Laura Louise Ln
Bozeman, MT 59718
(406) 388-7275
Guests may receive food assistance on the first and third Saturday of the month between 9 and 11 am, and will be assisted in a first come first serve manner.
The Livingston Food Resource Center
202 S. 2nd Street
Livingston, MT 59047
(406) 222.5335
Food Distribution Hours:
Tuesdays and Thursdays 1 pm – 5 pm
The Livingston Food Resource Center serves the Livingston area and outlying communities in Park county.
Loaves and Fishes of Livingston
301 Main Street
Livingston, MT 59047
(406) 222.4824
Hours:
Monday through Saturday from 4 pm-6 pm
Meals on Wheels
Bozeman Senior Center
(406) 586.2421
Salvation Army
32 S. Rouse
Bozeman, MT59715
(406) 586.9051
Breakfast
Served during the Warming Center season- November through March
Monday-Wednesday from 7:30 am-8:30 am at Fork & Spoon
Lunch
Sack lunches are provided all year long
Monday-Friday after 9:30 am
Gardiner Food Pantry
PO Box 459
Gardiner, MT 59030
(307) 344.9006
Food Distribution:
Tuesdays from 1 pm – 6 pm
West Yellowstone Food Pantry
(406) 646.7311
Ennis Food Bank
(406) 682.7844
White Sulphur Springs
(406) 547.3433