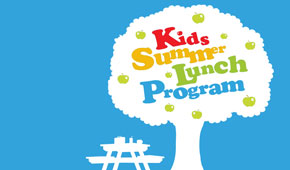 Summer Lunch Program
No Summer Lunch Meal
Service on Friday July 3rd
We will resume lunch service on Monday July 6th 
Are you interested in volunteering with Summer Lunch in 2020? 
Opportunities are fun and family friendly, sign up to be notified when we begin posting opportunities HERE
Summer should be a stress-free time for parents and kids. Let our Summer Meal Program help. The Summer Meals Program is available all summer long, Monday-Friday at various times around the lunch hour!
Our LUNCH program is open to ALL kids and teens 18 and under. FREE, healthy meals are available at sites across the Gallatin Valley.   We offer a safe, supervised location where your kids and teens can stay active and spend time with friends while enjoying healthy meals.
Meals served are tasty, follow USDA nutrition guidelines, and help ALL families save money. There is no application to fill out or proof of income needed. Just show up and enjoy a meal.
Please join us at one of our following meal sites or text "food" to 877 877 for a site near you.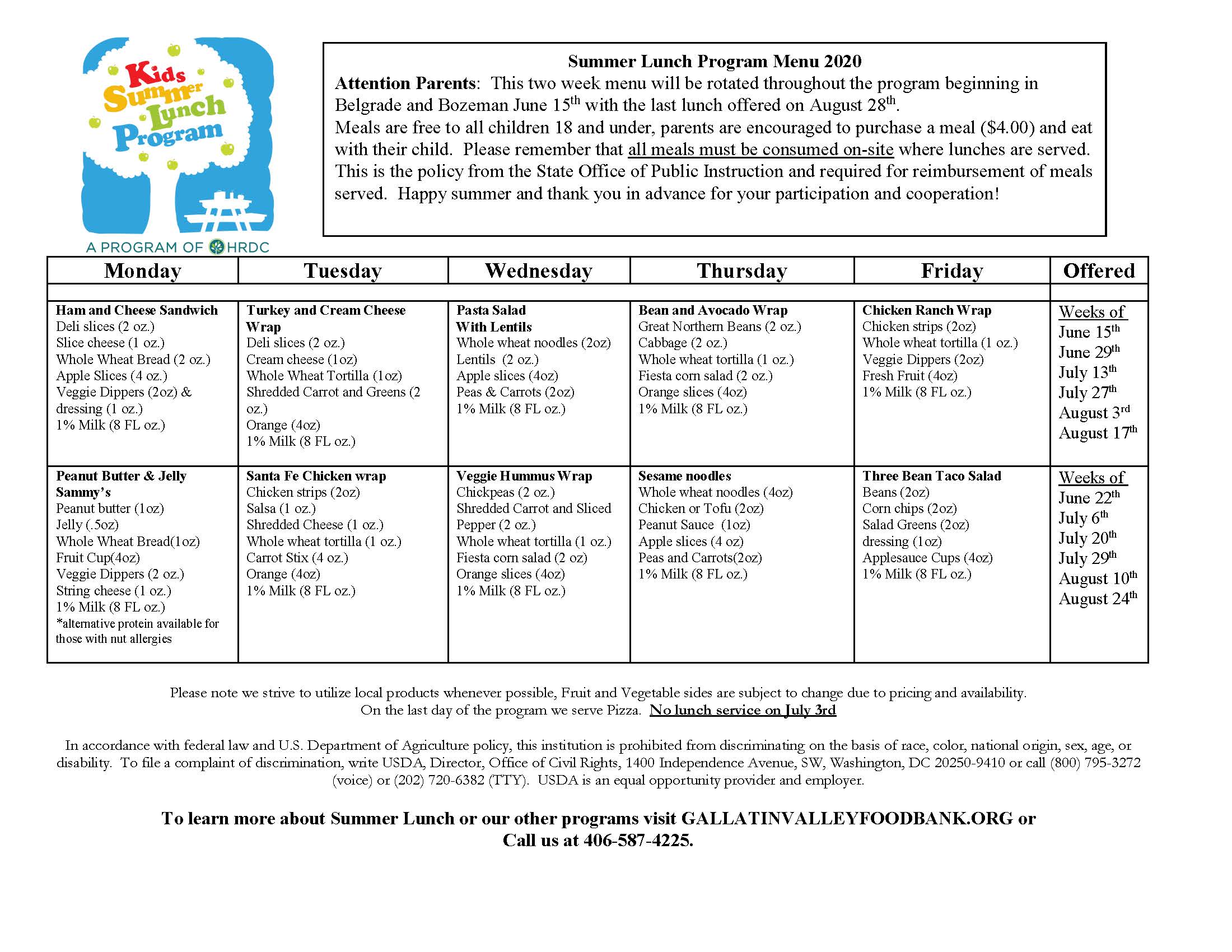 Site Information 2020
*All sites begin June 15th unless otherwise noted*
New for 2020–
-Meals will be grab and go sack breakfast and lunch at all locations. 
-Parents and guardians may pick up meals on behalf of their children at all locations.
Belgrade

meal sites will now be operated by the Belgrade School District.           

Start Date

: June 8, 2020View sites and info here:  Belgrade SFSP 2020 Flyer
For more information contact Lyra at summerlunch@thehrdc.org with questions, suggestions, or feedback! 
While feeding children is the top priority of the Summer Meal Program, programming and activities are what keeps children coming back.  This takes volunteers–and lots of them–throughout June, July, and August.   Volunteers can help with basics like transporting food,  meal service at sites, food prep/production or hosting activities.
If you would like to volunteer for Summer Lunch please make an account with our online volunteer platform HERE look for the "sign up" button located in the top right corner.
The HRDC Summer Lunch Program is a rewarding internship opportunity that involves preparing meals for summer meals sites, delivering/serving and supervising meals at site locations and supporting volunteers in a variety of tasks.  Fast-paced and fun environment involves a good chunk of time on your feet.  Summer lunch interns will work alongside volunteers, interns, AmeriCorps VISTA's and Community Café staff in a kitchen environment as well as outdoors for meal service
Summer Lunch provides nutritionally-balanced meals to local children during the summer months at 11 meals sites across the valley.  Serving approximately 450-500 children per day.
To get involved with an internship or volunteer opportunity please contact Lyra Leigh-Nedbor at summerlunch@thehrdc.org or by phone at 406-586-7600.
Each summer we hire 2-3 AmeriCorps VISTA Summer Associates.  We will begin hiring for our VISTA Summer Associates in late March 2020. 
The Summer Food Service Program (SFSP) runs throughout the summer months providing FREE meals to all kids and teen 18 and under;  The Gallatin Valley Food Bank is the local sponsor for the Montana Office of Public Instruction to provide this program in Gallatin County.
In accordance with federal law and U.S. Department of Agriculture policy, this institution is prohibited from discriminating on the basis of race, color, national origin, sex, age, or disability. To file a complaint of discrimination, write USDA, Director, Office of Civil rights, 1400 Independence Avenue, SW, Washington, DC 20250-9410, or call (800) 795-3272 (voice) or (202) 720-6382 (TTY). USDA is an equal opportunity provider and employer.
The Summer Meals Program is brought to you by HRDC