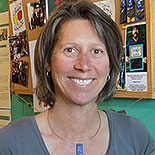 I oversee and track food inventory & safety, warehouse & staff management. Food drives and some media also fall within my responsibilities.
I love being outside and seek untrammeled places.
For most of my life I have worked for organizations that utilize volunteers. Volunteers add compassion and enthusiasm and volunteering is one of the few things that we know will truly make a difference in this world. I hope to always work with volunteers.
I enjoy searching for charismatic mega-fauna in my time off.
Some people knit, I cook. It is a creative outlet with immediate gratification. Food is very important to me.
I live in a place with my husband that I dreamed about since I was 12.
Alma mater: Go Horned Frogs!