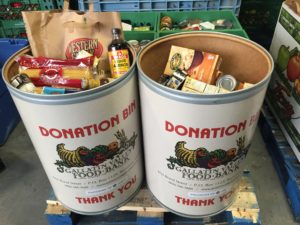 Community food and fund drives provide nutritious food and vital operating funds for the Gallatin Valley Food Bank while raising awareness of hunger issues in our community.  High housing costs and underemployment have pushed demand for emergency food to record levels, making community support more important than ever.  A huge thank you to the hundreds of schools, offices, faith-based groups and others who organize food and fund drives.
Your efforts make a big difference for the 1,000's of people each month who rely on the Gallatin Valley Food Bank.
Both food and funds matter!
Cash donations keep our freezers running, lights on, and our vehicles on the road.  They also support our innovative programs to address the root causes of hunger through advocacy and education. Monetary donations also allow the Gallatin Valley Food Bank to purchase bulk food to be repacked by volunteers.  Because we make large, bulk purchases, our cost per pound of food is far lower than that of food bought at retail prices by individuals.
Food drives provide some of the healthiest and highest-quality food the Gallatin Valley Food Bank receives. Food donations provide a link between you, the donor, and people who are hungry.  Both food and funds are equally appreciated.  
We DO accept fresh produce as well as commercially processed Wild Game. 
Fresh produce is an essential component of a healthy diet but is not always accessible to someone on a tight budget.  Grow-A-Row is an excellent opportunity to bridge community, build relationships, and provide low-income people with access to fresh, local produce.  When you are planning your garden, consider planting an extra row for us!harvest your fruit and vegetables consider sharing some with us! Interested in helping us with our gardens? Please let us know! Call 586-7600
Getting started
Thank you for organizing a food and fund drive to help fight hunger in our community.  As the need continues to grow, food drives become increasingly important.  Running a food drive is fun and easy! Check out our Food Drive Manual for tips.
To ensure food safety, we are unable to accept any of the following items:
Rusty or unlabeled cans
Homemade items
Noncommercial canned items
Noncommercial packaged items
Alcoholic beverages or mixes
Open or partially used items
Cans that have been frozen
Register your Food or Fund Drive
Once you've read through the manual and planned your food and fund drive, please register your drive: