Food & Fund Drives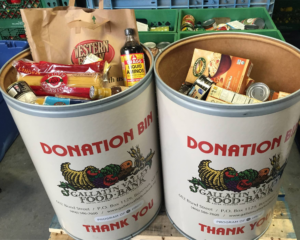 Community food and fund drives provide nutritious food and vital operating funds for Gallatin Valley Food Bank. Food drives also raise awareness of the experience of food insecurity right here in Southwest Montana. 
How to Donate:
Food. Food drives provide some of the healthiest and highest-quality food the Gallatin Valley Food Bank receives. Please see our wishlist below for current food items we are asking for. If you are organizing a community food drive, register below. We DO accept fresh produce as well as commercially processed Wild Game. 
Funds. Monetary donations allow us to purchase bulk food to be repacked by volunteers.  Because we are able to make large, bulk purchases, our cost per pound of food is far lower than that of food bought at retail prices by individuals, which means your dollars buy twice as much food as they would in a store. These donations keep the freezers running, our trucks on the road, and our store shelves stocked.

Community Food Drive Registration

Please register your food or fund drive.