Thanksgiving Resources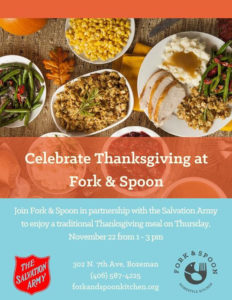 The Salvation Army will be preparing dinners and delivering them to home-bound, sign-ups will start on November 1st. Call the Salvation Army to sign up- 406-586-5813
The Salvation Army will also be hosting dinner on Thanksgiving at the Fork & Spoon from 1-3 pm. The dinner will be totally donation based rather than the usual pay-what-you-can model, no registration needed.
It's Greek to Me will be hosting a free Thanksgiving meal on November 21st from 10:30am- 2pm(ish) or until the food runs out, no registration necessary.
Midtown Tavern Free Community Thanksgiving Meal- 12-3pm Click Here for Event Details.