Monica Ruiz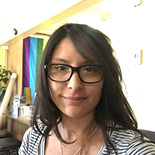 I primarily help our clients navigate community resources, keep our website up-to-date, and help tag team our social media networks. I also serve as co-director of Huffing For Stuffing, a Thanksgiving Day (fundraiser) run.
A Montana native (from Billings), moved to Bozeman in 2002 to attend MSU and ended up sticking around.
Hobbies: The outdoors and traveling. Some of my favorite activities include mountain biking, skiing, and camping.
Work-Life: I came to the food bank as a student intern, served as a VISTA, and then was hired full-time!
Food: Nothing beats homemade beans & tortillas, and New Mexican green chile.