Mattie Griswold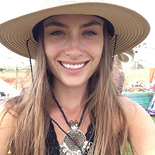 I am thrilled to be serving with the Gallatin Valley Food Bank for the next year and developing the programming for the new Story Mill Learning Garden, to be constructed Summer 2018 within the newest and largest public park in Bozeman. In addition, I am piloting a youth development program in the GVFB gardens this summer that will engage and empower at-risk teens.
Education/Experience: BA in Environmental Studies-Geology from Whitman College, worked as a seasonal field technician in Oregon, Washington & Utah, managed a natural history exhibit in NE Oregon, wrangler, goat-caretaker, gardener.
Hobbies/Passions: cooking, exploring the outdoors, growing food, mycology, working with my hands to create, spontaneous road trips, dancin' to live music.
Fun Fact: I grew up on a remote cattle ranch in the mountains of Idaho where I was homeschooled because we were snowed into our house for 6-7 months of the year.