Mattie Griswold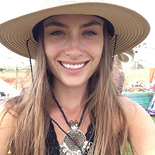 I am thrilled to be the Gallatin Valley Food Bank's Outreach Coordinator. I will help with the Story Mill Learning Garden and the gardens at GVFB. In addition, I am helping with outreach and special volunteer groups. I will also support our communication efforts, by helping with social media and the website.
Education/Experience: BA in Environmental Studies-Geology from Whitman College, worked as a seasonal field technician in Oregon, Washington & Utah, managed a natural history exhibit in NE Oregon, wrangler, goat-caretaker, gardener.
Hobbies/Passions: cooking, exploring the outdoors, growing food, mycology, working with my hands to create, spontaneous road trips, dancin' to live music.
Fun Fact: I grew up on a remote cattle ranch in the mountains of Idaho where I was homeschooled because we were snowed into our house for 6-7 months of the year.