Matt Kirby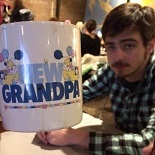 I am serving the Gallatin Valley Food Bank for the next year. I will be helping build capacity for childhood nutrition programs and the Kids Summer Lunch program. I consider myself very lucky to be working with such a dedicated and experienced team to help eradicate food insecurity in Montana.
Education: B.A. in Liberal Arts from Bennington College, with concentrations in Acting and Writing.
Passions: I am a published playwright and an experienced performer. I am passionate about politics, art, and music. I'm also an avid reader and a lifelong baseball fan.
Fun Fact: I play bass and guitar (badly) and I was in a punk band in high school and college. I LOVE loud, fast music.