Mariah Smith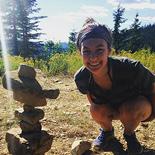 I process all of the intake forms for our clients, ensuring we have an accurate picture of the community we serve and how we can best meet their needs. I also help out at the front desk answering phones and helping the rest of the team with various projects.  I'm a University of Montana Grizzly 11 months of the year, but I go all out for the Bobcats when Can the Griz rolls around!
Hobbies: I love getting out and playing with my dogs (Todd & Rocky), gardening, crafting, and building things in my garage.
Favorite Foods: I'm always up for a good burger and shake!
Favorite thing about GVFB: Besides interacting with all of the wonderful people that come to our food bank, I love seeing all of the interesting things that get donated! Every time I think I've seen it all, something unique and special comes through our doors.