Lyra Leigh-Nedbor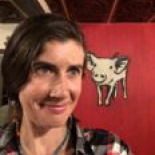 I oversee the production and distribution of Healthy KidsPacks (during the school year) and Summer Lunch (in the summer) as well as supporting food drives here at the Food Bank.  Over June, July and August we distributed more then 22,ooo Breakfast and lunches to area children through our Summer Lunch sites.
Hobbies: Getting outdoors (to ski, bike and hike), cooking, gardening, knitting and sewing.
Food: Pie!! Any flavor, but especially beebopareebop Rhubarb Pie!
From: I moved to Montana from Vermont, but grew up with 5 siblings in not-too-far Upstate New York (the Hudson Valley region).
Fun Fact: I love to knit and drink beer, come find me at a brewery and we can stitch it up together!