Jennifer Treff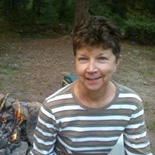 My role at GVFB is reception and data entry. I answer the phone, greet folk, enter intake information and try to be available to help wherever needed.
Giving to our community through volunteering is a passion for me. I have been fortunate to volunteer for a short time at GVFB and for over 2 years at Fork & Spoon. I am now employed at both! And I get to work with great groups of staff and volunteers. Everyday working here is like a box of chocolates, you never know what you're going to get!  Couldn't help but borrow from Forrest Gump! Seeing folks get food for their family or a good meal gives me joy. I have never experienced being hungry- it is humbling to serve our food-insecure patrons.
I'm a Texas native but have lived in Nevada, Idaho, Colorado and now Montana. I came to Bozeman because my daughter and her husband are here. Could there be a better reason?!
I enjoy being outside, taking care of animals and our little acre during the summer. When winter hits, I hibernate! Should have been a bear! Although spending time at Window Rock cabin last winter and snowshoeing around Hyalite may change my mind.
Favorite sports team: Dallas Cowboys! Through the good and bad years.
Fun Fact: I have stood on the equator and the top of the great wall of China.