Donavan Glasgow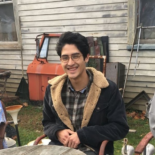 As the AmeriCorps Childhood Nutrition VISTA, I am working to expand and evaluate our KidsPack, KidsPantry, and Summer Meals programs. Specifically, this work involves recruiting and training new volunteers, developing and distributing a survey investigating how these programs can be improved for participants and partners and creating marketing materials.
Hobbies: I love to run, hike, and bake in my free time! I was born and raised in New Mexico, so I am looking forward to getting involved in winter activities as well!
Previous work experience: While in school I did a number of internships, including working with my local food pantry and working with refugee farmers in Portland, Maine. I also have a few years under my belt slinging coffee as a barista.
Education: B.A. in Human Ecology from College of the Atlantic in Bar Harbor, Maine.