Carolyn Powers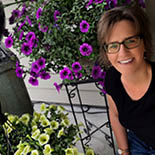 After working with the Low Income Energy Assistance Program at HRDC for 3 seasons, my husband and I started a business which required me to resign my position. However, I was still able to be a part of this amazing organization by assisting with data entry for various HRDC programs, working from home. I am incredibly blessed and humbled to be a part of the Gallatin Valley Food Bank team. My primary responsibilities are ensuring that accurate and current data is entered into one of our primary database systems.
Hobbies: I absolutely love summertime! You can usually find me mowing the lawn, fussing with my flowers or just enjoying the sunshine on the back patio. During those not so summer months, I enjoy painting, writing in my journal and Bobcat football games.
Education: At the age of 30 and three kids in tow, I started college. I was able to realize my dream by earning my BS in Psychology at Montana State University. GO CATS!
Fun Fact: I've been collecting Michael Jordan memorabilia since 1994.