Bri Cronin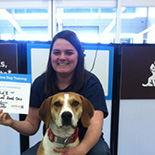 My job responsibilities include overseeing the 100+, incredible weekly volunteers in addition to group service scheduling. I also manage the day-to-day operations of the store.
Recent Jobs: MSU where I co-coordinated the Can The Griz food drive with the GVFB, and wilderness therapy for troubled teens.
Favorite Food: Chips and homemade salsa.
Free time: Spent entertaining my highly intelligent, highly neurotic dog, Boaz.
Random Fact: I am obsessed with goats and chickens and cannot wait to own several of each!