School Meal Resources
School has begun! Are you informed about the meal program at your school? 
Bozeman School District: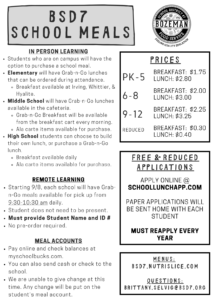 How will school meals work at Bozeman Schools with the blended learning model? 
Free Grab and Go Meals are available for all students regardless of income.  View details by click on this image.
If you want further information, please contact Bozeman School District: http://www.bsd7.org  OR on Facebook
Belgrade School District:
Belgrade is operating the National School Lunch Program and will be providing meals to all students.  Remote Learners may pick up Grab & Go Meals, please pre-order with this form HERE.  
If you want further information, please contact Belgrade School District: https://www.bsd44.org/