The Need:
Food Banks were originally intended to fill the gap when households were out of food and resources due to an emergency. Emergency situations are now less than half of our client load.  We serve the underemployed, households whose income does not stretch to cover food expenses, seasonally employed households, older adults living on fixed incomes, as well as households who are temporarily homeless.  High housing costs and underemployment continue to push people in the Gallatin Valley and in Southwest Montana towards food insecurity. Thankfully, people can still count on the Food Bank. While the Gallatin Valley Food Bank is proud of our success helping families in need, we are saddened that so many people continue to need our help. More often than not, at least one person in every household we serve has someone currently employed.
Statistics:
Who is food insecure in Gallatin County–And Why?
Food insecurity is an income issue and poverty is one of the strongest predictors of food insecurity.  1 in 7 Gallatin County residents (13.8%) live below the federal poverty level.   The USDA estimates that until a family's income is 185% above the poverty line they are at risk of experiencing food insecurity. In May of 2014, we followed all 131 households that were new to the GVFB that month.  Results from our New Client Study show that 74% of our clients live at the 100% benchmark–for a family of four this is only $25,200 a year.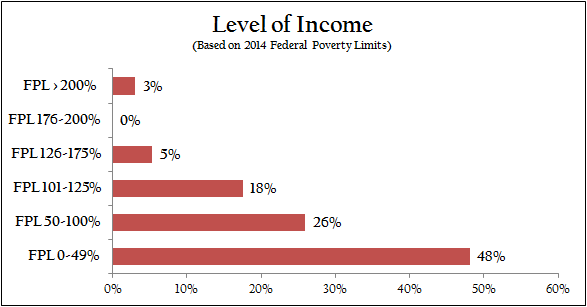 Results from the New Client Study show that most of our clients only visit the Food Bank 1-2 times over the course of a year, contrary to one particularly persistent sentiment- that food bank clients chronically taking advantage of services available to them.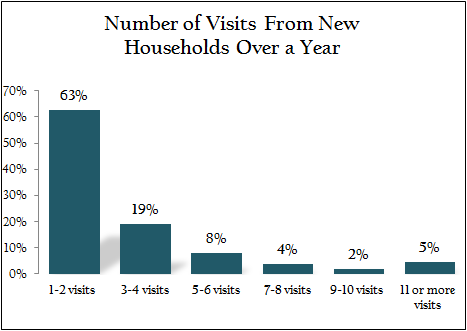 Hunger's effects:
Health Consequences
FACT: Under-nutrition (not eating enough) and malnutrition (not eating enough nutrients for proper development) lead to death for about 40,000 children a day world-wide.
FACT: Undernourished pregnant women often have low birth weight babies. These babies are more likely to suffer from physical illness and impaired growth and development. Undernourished babies are more likely to die during their first year of life
FACT: Children and pregnant women have high nutrient needs. They are often the first to have health consequences due to nutrient deficiencies
FACT: Chronic hunger in adults weakens bones and muscles; increases risk of illness, makes existing health problems worse and contributes to depression and lack of energy.
Behavioral Consequences
FACT: Children who are hungry may be less attentive and curious than other children. They often have difficulty concentrating. Their reading, verbal and motor skills can suffer. They are absent more often from school and have higher dropout rates.
FACT: Even short-term nutritional deficiencies can affect a child's ability to concentrate and perform complex tasks.
FACT: In adults, hunger causes nervousness, irritability and difficulty concentrating.
FACT: Hunger can have an emotional impact as well. It may diminish self-confidence and self-esteem. In a culture that encourages self-reliance, people hesitate to seek help. They may feel embarrassed or ashamed that they need food assistance.