Food Security Council Winners
The Food Security Council recognizes individuals and organizations who have worked to reduce hunger and improve the nutritional status of Montanans. The 2017 awards were presented by the Food Security Council and First Lady Lisa Bullock to the following recipients:
Glacier Awa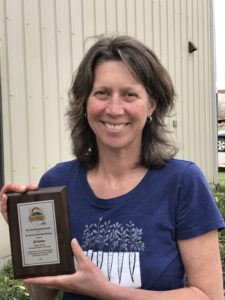 rd: For Moving Mountains to End Hunger
Jill Holder
Jill Holder, Operations Manager, at Gallatin Valley Food Bank, is passionate about food and shares this passion by ensuring that individuals in her community and surrounding areas have access to affordable, nutritious food. She is constantly building partnerships to maintain the quality and quantity of supplies on the Food Bank shelves. Recently, Jill piloted new distribution locations and time slots for the Belgrade community, helping reach more people and shed light on barriers the community of Belgrade faces in accessing emergency food assistance. This is just one of the many examples of Jill consistently going above and beyond for clients of the Gallatin Valley Food Bank.
To see the complete list of winners visit: http://mfbn.org/learn/public-policy/food-security-council/awards