The Learning Garden was created with input from our community, the vision of the Trust for Public Land, the partnership of the City of Bozeman, and the support of countless partners, donors, volunteers and community members. The space and partnerships are currently managed by Gallatin Valley Food Bank as another creative approach to improving food security in Southwest Montana.
History of the Learning Garden

Story Mill Community Park, now open to the public, is the largest public park in Bozeman and boasts over 60 acres of wildlife habitat, playgrounds, climbing boulders, sledding hills, dog parks, and community gardens. The initial conceptual plan for the park was developed with widespread public input and a common thread was the call for more community garden spaces since all others are currently at capacity in Bozeman. The management of the Learning Garden project was passed around between several organizations before Gallatin Valley Food Bank took it on. For GVFB, it was a natural partnership and an opportunity to bring the issue of food security to the forefront.

The Learning Garden Now
In an effort to expand this opportunity to more people in our community, we are trying a different "community garden" model in which the garden is parceled out to organizations or groups rather than individuals. Our partners primarily include groups that work with youth and who use the Learning Garden for therapeutic and educational programming.  Current partners include: Gallatin Valley Farm to School, Big Sky Youth Empowerment, Blueprint (HRDC), The Bozeman 3, Headwaters Academy, Bozeman Parks & Recreation, Sacajawea Audubon Society, Sweet Pea Festival, and Indigenous members of our community. 
Our garden goals are multifaceted in that we want to grow more nutritious food for our customers, provide spaces for therapeutic and educational programming, decrease stigma and raise awareness of the reality of food insecurity in our community, and provide an example of what it looks like to grow your own food in Montana. We hope that by creating these growing spaces, we can facilitate opportunities for our community to become more empowered and self-sufficient through their relationship to food.
Our vision is to create a healthier, more resilient, food-secure community in which all of the members are empowered and have the means to nourish themselves.
Our mission is to cultivate an environment of community-driven education, agricultural stewardship, environmental awareness, and food sovereignty.
How to Get Involved: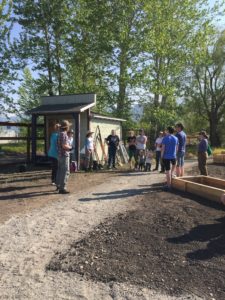 Still have questions? Call  (406) 596-7600 or email mgriswold@thehrdc.org