School Meals Availability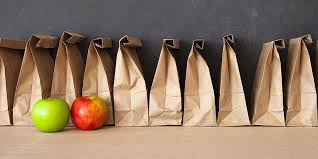 Schools in the area are working tirelessly to find ways to provide meals for kids while school is closed. This is current for the week of March 30th.
Meals are available to any child 18 and under, there is no paperwork to complete and KIDS DO NOT NEED TO BE ENROLLED IN THE SCHOOL TO RECEIVE MEALS AT ANY OF THESE LOCATIONS (unless noted otherwise!)!
*UPDATE* Parents and guardians may pick up meals on behalf of their children, also, note the date changes!
Belgrade School District Offering curbside pick up of breakfast and lunch. Distributing at all Belgrade Schools (Heck Quaw, Ridge View, Saddle Peak, High School, & Middle School). 11 am-12 pm distribution is for all individuals with last names beginning with A-L, 12 pm-1 pm distribution is for all individuals with last names beginning with M-Z.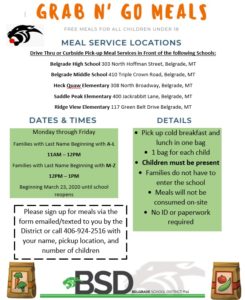 Bozeman Public Schools Food and Nutrition Services is offering curbside pick up of two breakfasts and two lunches Monday, Wednesday and Friday 11 am-1 pm at Irving Elementary Main Entrance & Bozeman High South Entrance off Main St.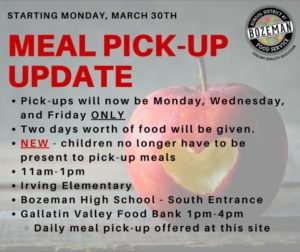 Big Sky School District–Community members can pick up a bagged lunch Monday, Wednesday, and Friday in front of The Warren Miller Performing Arts Center from 11am-1pm. IF YOU WOULD LIKE TO PICK UP MULTIPLE LUNCHES TO ALLOW FOR DAYS THERE IS NO PICK UP, Please e-mail lhurlbut@bssd72.org to pre-order for the day. It is EXTREMELY helpful in knowing how many lunches to prepare. If you need lunch delivered, please let us know and we can arrange it through our volunteers. As always, please be aware of the health and safety of customers, volunteers, and staff.
NEW HOURS: Monday, Wednesday, Friday 11am-1pm
LOCATION: Warren Miller Performing Arts Center Lobby
Gallatin Valley Food Bank Meals are available Monday through Friday from 1-4 pm during Food box distribution.
Manhattan Public School – Lunch– Beginning Monday 3/30 students participating in the lunch program will receive a healthy lunch that will be charged to their school lunch account. Students who qualify for free or reduced meals will be charged accordingly while others will be charged the regular school lunch price.
Three Forks Public Schools- is offering Grab and Go breakfast and lunch 11-12:30 Monday through Friday.
West Yellowstone is providing grab and go two days worth of breakfasts and lunches distributed Monday, Wednesday and Friday from 11:30-12:30 at the school, Please request meals by 9 am that day.